Current vacancies
Job opportunities can be discussed with Dr. Peeters (marloes.peeters@newcastle.ac.uk)
Research team at Newcastle University, 2020: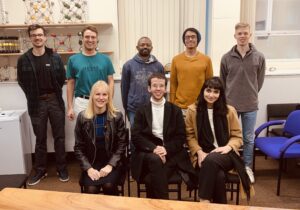 Top, left to right: Jake McClements, Oliver Jamieson, Patrick Seumo, Felipe Sousa, Jack Reeder. Bottom row: Marloes Peeters, Leonardo de Faria Figueirido, Ana Vilalela Strapazon
Peeters research group October 2018
From left to right: Heitor Valarini, Francesco Mecozzi, Kai Betlem, Oliver Jamieson, Alex Hudson, Robert Crapnell, Marloes Peeters, Amanpreet Kaur and Pankaj Singla.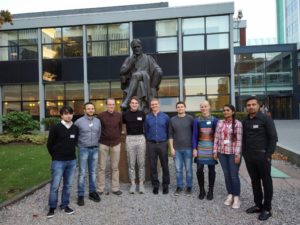 Peeters research group December 2016
From left to right: Nikki Mansouri (MRes student), Joe Lowdon (MChem student with Dr. Sutcliffe), Kai Betlem (PhD student), Jorge Tadashi Ueta (exchange student from USP, Brazil), and Dr. Peeters. In the picture of April 2016, also Timothy Goris (exchange student from the Netherlands) is shown).