My Week in Westminster #SciWestminster17
Marloes Peeters (lecturer Chemical Biology ManMet)
After Brexit and recent comments of Michael Gove ("Britain has had enough of experts"), I gained an interest in how policymakers use scientific evidence to support their decisions. The Royal Society pairing scheme came exactly at the right time and I was surprised that they found a pair for me after months of waiting. Overall, I found it a very enjoyable experience – not just to meet the other participants that all came from different backgrounds but also to see what life of a civil servant was like (stressful).
The week started with Christmas shopping in London and a delicious Italian dinner in Covent Garden to meet the other participants. This was just a warm-up for the day after that was packed with information, certainly for someone who knows little about parliament and its many committees. It started off with a (long) tour with a very determined Swedish lady who directed us through the building.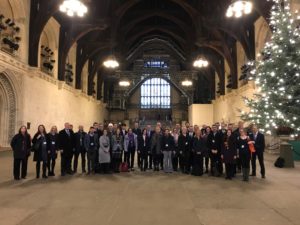 All participants of the Royal Society pairing scheme in the chilly halls of Parliament
We were not allowed to take pictures, but it certainly was very chilly and the rooms in parliament were much smaller than I thought they were. Interesting thought: if MPs want to have a seat, they need to make sure they turn up on time! We then moved to Portcullis House where we had a range of presentations from POST (Parliamentary Office of Science & Technology), Campaign for Science and Engineering, Royal Society of Chemistry, and various others. It was surprising to me how those organizations, such as the RSC and Royal Society, spent on gathering evidence and they way to get your voice heard as a scientist would go through them. Over a long wait, we had a few talks including from Chi Onwurah (MP for Newcastle Central, I saw her at one of the late shows there) who actually turned out to be an ex-engineer. The day ended with a charismatic talk from John Bercow, who said he does not know anything about science but wants his daughter to be a scientist.
The following two days were the shadowing days. I was paired with Ben Rayner, a ManMet graduate in geography and conservation biology, who is a senior policy officer in DEFRA (see image below).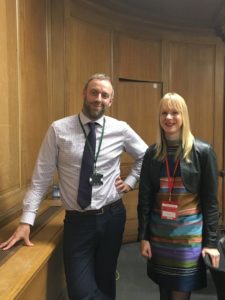 I heard of at least four other people that they were paired with civil servants from the DEFRA, and apparently, this department has doubled in size since the Brexit since all agricultural laws are made by Europe (it was described as the current "place to be"). What I learnt in the first day: civil servants use as many acronyms as we do at the university, which can make it difficult to follow conservations. The whole day was packed with meetings but contrary to university life, all these meetings were short and sweet (max 45 min). Time for lunch is limited and they can be called away at any time, such as receiving emails for ministers questions where a response within 15 min is required. Ben shared his experiences at ManMet and told me about is interesting career path from working at the local government working on environmental science (nitrate levels in the Peak District) to his current role at the DEFRA. We learned on the last day that civil servants cannot have a promotion within their current role, hence you will see that most of them were only in post for several months. They were also surprisingly young, I suspect that the majority of the people was younger than 30, and they all seemed to be passionate about their job. On the second day, I talked about my research to team and shared my experiences of working with Innovate UK and funding bodies. It was definitely interesting to get a flavor of how fast-paced the decision making process for civil servants is (they certainly work with different deadlines than universities). This also gives some insight in the frustrations there are between scientists and policymakers: if you need to gather evidence within 15 min, it is most likely that you will use Google too.
The night finished with a mock selection committee and the parliamentarian reception of the Royal Society of Biology. Luckily, the programme on Thursday was a bit more relaxed and gave us time to exchange experiences with follow participants and let the information sink in. The final presentation of the day by Chris Witty, Chief Scientific Adviser, was one of the most impressive ones of the week to me; he showed an example (ebola) of where policy can overrule scientific advice and how important it was to be impartial when providing advice to government (he certainly has a poker face).
Overall: met a bunch of interesting people, confirmed some of my skepticisms towards policy makers, but also gained more respect for the work that civil servants do. I look forward to the reciprocal visit of Ben Rayner to ManMet, would be interesting to see if the John Dalton Building has changed much since his graduation!
♦
Blog of Bioinspired Materials 2017 conference
A successful Bioinspired Materials conference
Soapbox Science blog
Womanthology, piece in online magazine article on promoting Women in Science
Women can do 'difficult' and 'technical' subjects just as well as men: It's fine to stand out and follow your own path in science and engineering – Dr. Marloes Peeters, Lecturer in Chemical Biology at Manchester Metropolitan University
Gertrudis Geluid (journal of Gertrudis Lyceum, grammar school in Roosendaal, the Netherlands)
Unveiling John Dalton plaque (Manchester evening news)
http://www.manchestereveningnews.co.uk/news/greater-manchester-news/blue-plaque-been-put-up-12883984
Women in STEM website
Participation Dr. Peeters at STEM4Britain (Dutch newspaper)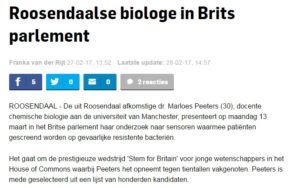 http://www.bndestem.nl/roosendaal/roosendaalse-biologe-in-brits-parlement~a7c7cede/#comments-anchor
Publication ManMet website: https://manmetlife.wordpress.com/2017/03/10/excellence-in-science-and-engineering/
Atlas of Science, layman's summary on the thermal detection of dopamine
Available at: http://atlasofscience.org/introducing-thermal-wave-transport-analysis-twta-a-thermal-technique-for-dopamine-detection/
Written by K. Betlem, J. Lowdon and M. Peeters
Bioinspired Materials Symposium (13/09/2016) at MMU
Blog available on website of ManchesterMet: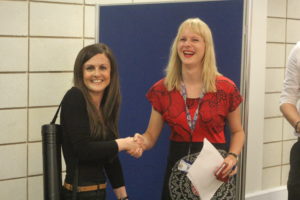 Justine Grixti (UoM) gets her poster prize from Dr. Peeters.
Staff members from across the Faculty of Science and Engineering organised the first multidisciplinary symposium on 'Bioinspired Materials' held at Manchester Metropolitan University on Tuesday, September 13. Invited lecturers were by renowned international scientists and engineers who all combine a 'bio' element in their research. Dr. Eirini Velliou, a lecturer in chemical engineering from the University of Surrey, talked about the development of 3D tumour models that are used for screening pancreatic cancer treatments. The application of nanoporous gold structures for biosensing was presented by Dr. Patricia Losada-Pérez, whose project is a collaboration between the Institute of Materials Research in Belgium and UC Davis in California. Representing Manchester Metropolitan, Dr. Vittorio Caprio from the Division of Chemistry discussed a new approach to synthesising complex natural products using engineered enzymes. The multidisciplinary range of topics managed to attract more than 60 attendees from seven different universities in the UK, from undergraduate students to academic staff. Poster prizes were generously sponsored by IKA chemicals, Kinesis, Manchester Organics, and Fluorochem. Success for Manchester Metropolitan was there for Jane Wood from the Manchester Fashion Institute, who presented a skirt made from bacterial cellulose and won the Kinesis poster prize. Dr Alan Jones from the School of Science and the Environment received a digital hot plate from IKA chemicals for his contribution on the electrosynthesis of amides.
Contribution Zahira Patel for Manchester Science Journalism Competition
The academic research that I took interest in is carried out by an expert in chemistry and chemical engineering; Dr. Marloes Peeters. Marloes attended the research institute IMO/IMOMEC in 2009 in Belgium where she took part in a Biosensors group. Here, her research was on the continuation of a previous researcher, based on the synthesis of synthetic polymer receptors and detection of biomolecules for the next four years. Then after, her research changed to using enzymes with natural receptors.
Marloes Peeters then began to work on her own research and since 2015; she has been a lecturer in Chemical Biology at Manchester Metropolitan University. The aim of this research is to combine the use of thermal techniques with the detection of biological molecules. When DNA is heated, a change in the thermal resistance is observed at the melting temperature. At this temperature, the conformation changes from double-stranded DNA to single-stranded DNA and the surface coverage is increased by 150%. The increase in electrical resistance was previously documented, but this is the first time this behaviour was observed with thermal techniques. Therefore, the hypothesis of this research was kept; "effects at the solid-liquid interface can be correlated to differences in the thermal resistance". This hypothesis was tested with the concept of Molecularly Imprinted Polymers, as demonstrated below.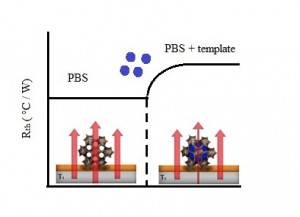 Fig 1: Diagram illustrated to present the reduction of thermal resistance through the cavities.
In order to prove this the experimental design Molecularly Imprinted Polymers were used. These are polymers that are created by the molecular imprinting technique beginning with functional monomers and temporary templates that self-assemble. These templates have shaped cavities with the template memory in polymer matrices. However, this process invloves the polymerisation of monomers with a template molecule presence, thus leaving the remaining complementary bases. Furthermore, the polymer was then placed on the surface of a screen printing electrode. Finally, the detection was done by thermal detection using a sensitive thermometer.
Fig 2: Image of the type of screen printing             Fig 3: Diagram representing equipment required
Overall, it was concluded that the hypothesis was true.  Similarly, researchers confirmed that by adjusting polymers used in the experiment of neurotransmitters, this could lead to the screening of cancer cells. Most importantly, from the above research discussed, limitations noticed from all research carried out included natural antibodies being more readily available than synthetic antibodies. Therefore more time and more effort is required, particularly for the synthetic polymers due to being an emerging technique. Moreover, the use of thermal detection led to the consequence of the change being too fast as well as the precision not being low enough for biological samples. On the other hand, the strengths mentioned were synthetic receptors are more ethical to use with the reason of being handmade and not required to be extracted from animals, etc. and finally the experiments were based on low costs and can be made into portable devices.
Lastly, the purpose of the experiment carried out was specific to neurotransmitters. This is intended to make sensors for doctors and non-qualified people in subjective ways such as being able to detect the amount of dopamine and serotonin. Serotonin is a neurotransmitter in the brain that influences cells related to moods and social behaviour. This is helpful in order to give an understanding of how antidepressants work especially the burden of psychiatric diseases, stress levels increase and to do lists become longer.